Ordering is a fundamental, high priority, high frequency task, but it can get complex.
Getting Started
Starting for the first time, log into your account dashboard.
Click on any of the blue outlined links as shown in the screen shot below:

1 - Create a Market List - this is your shopping list


2 - Create a Purchase Order - fast-track to a new request

If you've arrived at ML or PO, click 'Add new'.
NOTE: For extra control you can create template lists for your teams to choose from - this will speed up 'time to send' as well as improve 'time to choose'.


MARKET LISTS
Give your list a name, e.g. Area / Period => Dry Store / Wk1 and assign your outlet - your place of work

Now search for items you wish to order
Note: it may be useful to list as you see it on your shelf
Next to each item add the amount you wish to order:
- Total UOM = Total volume/weight
- Total units = Total no. of items
- Packs = Total groups of items
- Example = 4500ml / 6 bottles / 1 case
Once all items have been added, scroll to the bottom and click on 'Create'

NOTE: You can add notes to each line item by clicking on the 'speech bubble' icon. These instructions can then be actioned by your vendor of choice.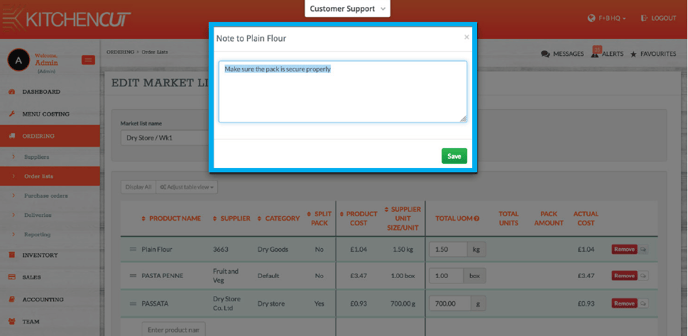 Purchase Orders

- PO name defaults to the day of creation.
- Assign your outlet.
- Assign your Purchasing Class.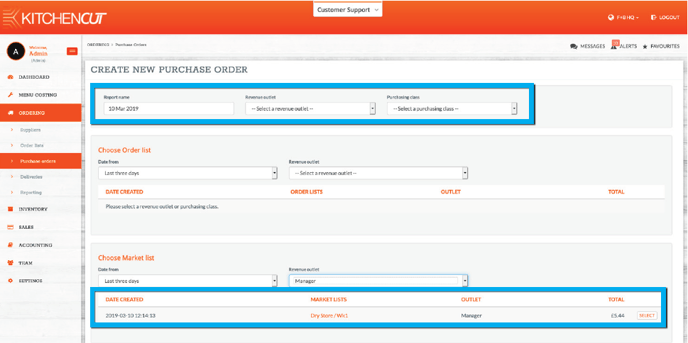 IMPORTANT: Classes tie all of your transactions together which ultimately drives your P&L - make sure you post to the right Class > All transactions to Food as well as all transactions to Beverage.
Scroll to the Market Lists section and you will see the list just created.
Click 'select'.
Now click 'Create'.
NOTE: You can add any number of lists together along with individual products > the system will automatically organise all items for you in the next step.
Check and Send
Once you have created your PO request, you'll notice that all the hard work has been done for you.
All items from the Market List are now organised by vendor.
Expand each vendor row to check the details.
See in the example screen below, how the 'item notes' have been added from the original list.

Now you can edit any quantities you wish to order, remove items as well as add more products. Quantities and totals will adjust accordingly.
From here click each 'Email to Supplier' row. This will send your order details direct to the 'Order email' as specified in the supplier profile.

Once sent you will see your Order status change to 'Submitted'.
NOTE: If sending orders by email, then each of your vendors will receive a notification -
this will contain a digital link to your order which your vendor can click to 'accept'.

IMPORTANT: If your vendor does not accept > then you can accept on their behalf from within the Purchase Order > once submitted, you can accept. This needs to be be actioned before acccepting deliveries.