This article will summarise the information and applications of the Accounting module of Kitchen CUT.
The Accounting section is available for clients on the Essentials, Essentials+ and Ultimate plans. The module has up to two sub-tabs, as shown below. The Payments tab is present as standard and includes records of invoices and credits so that payments can be tracked. The Cash module is an optional extra that offers digital cash reconciliation functionality - for more information on this, please contact your Account Manager or email support@kitchencut.com.

This article will focus on the Payments tab.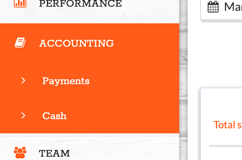 When you click on the Payments tab you will see the below screen.

Purchase Summary: this reporting tab allows you to query the information you wish to see from within the Payments section - to summarise approved purchase records for specific outlets, classes, or suppliers over a chosen time period.
New Purchases: when a Delivery is confirmed in the Ordering module, under default settings this will create an Invoice record in the New Purchases section. Similarly, if returns are processed at Delivery check-in, these will (depending on the return reason settings) create a Credit record in the New Purchases section as well.
These records are separated from the Ordering module that you can organise your invoices and payments however you wish. Essentially you can move invoice records from 'New Purchases', to 'Approved', and then finally into the 'Paid' tab.
Approved: this is for invoice or credit records that have been 'approved' - this refers to checking the Kitchen CUT records against the invoice from the supplier. If they match then they can be approved. If they don't then you may need to interrogate why - was there mistake with the order? does the Kitchen CUT invoice record need amending? or has the Supplier made a mistake with their invoice? Once you understand the reason for any discrepancies then you can make any necessary amendments in Kitchen CUT before approving the invoice records.
Paid: this is for invoice or credit records that have been settled. If you wish to use Kitchen CUT to manage your payments then you can choose to move invoices from Approved to Paid once settled.
Please note, at any stage you can export the list of invoice records by using the 'Do with Selected' dropdown in the bottom-right of the page. In New, Approved or Paid, you can multi-select and export (in various formats) as shown below.