There are various options for Printing your recipes in Kitchen CUT. This article will show you the various recipe print-out formats available.
*Please note, printing may be avoidable with Kitchen Cut. Your account has no restriction on number of users, so instead of printing you may be able to just give system access to anyone who needs access to the recipes. You can control the level of access for these users, for example by giving view-only access by setting up your user groups (guide here: https://support.kitchencut.com/how-to-manage-user-groups).
Print Recipes
The main recipe print-outs work the same for Subrecipe and Recipes, and can be accessed within the Menu Costing tab.

Go to Menu Costing > Recipes. Search or filter if necessary, and select the recipes to be printed using the tickbox on the left-hand side. Once selected, use the 'Do with selected' dropdown at the bottom of the page, and click Print selected.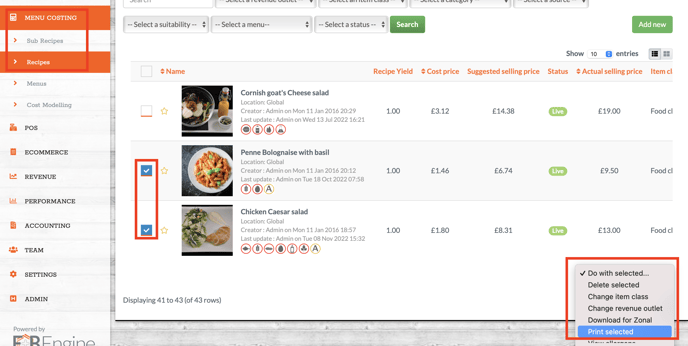 You'll then get a pop-up with all the various Print-out options available with your subscription: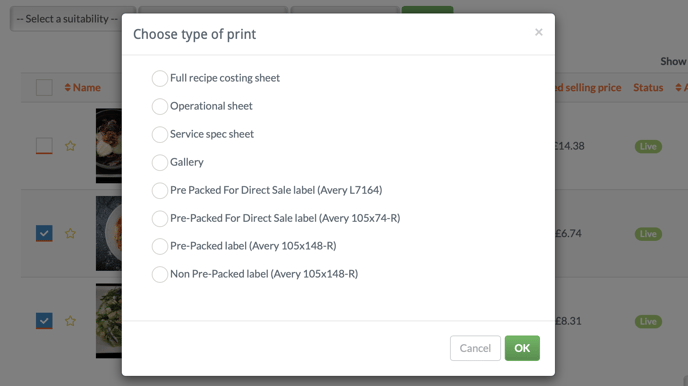 Typically the Full recipe costing sheet or Operational sheet are the popular choice for Kitchen teams. Service spec sheet is designed with more focused information for Service/FOH teams. There are also a number of label printout options for different label specifications.

Select the print version you want, then select OK to print.


Print from Recipe View
You can also print from an individual recipe view. When Viewing the recipe spec sheet (whether Full recipe costing sheet or otherwise), you'll have the option to select Actions in the top-right corner, from where you can choose from a number of options: