This guide shows how to create recipes in Kitchen CUT.
Recipes (as opposed to sub-recipes) are the final portions of your dishes as you serve them to customers. For any batch or component recipes, use Sub Recipes.

To get started navigate to Menu Costing > Recipes > Add New.

This will take you to the 'Create New Recipe' form. Work your way down the form through the following sections to create your recipe.

In the Recipe details section give your sub recipe a name, category, outlet/location, a volume, a unit and a classification.



In the Financial Settings, you can set a tax value, your target cost of sale, and wastage percentage.


Now in the main body of the form you can add your component ingredients as Products, Sub recipes, or Extras - search for ingredients by typing in the fields, specify a unit and a quantity - the cost of the item will auto calculate.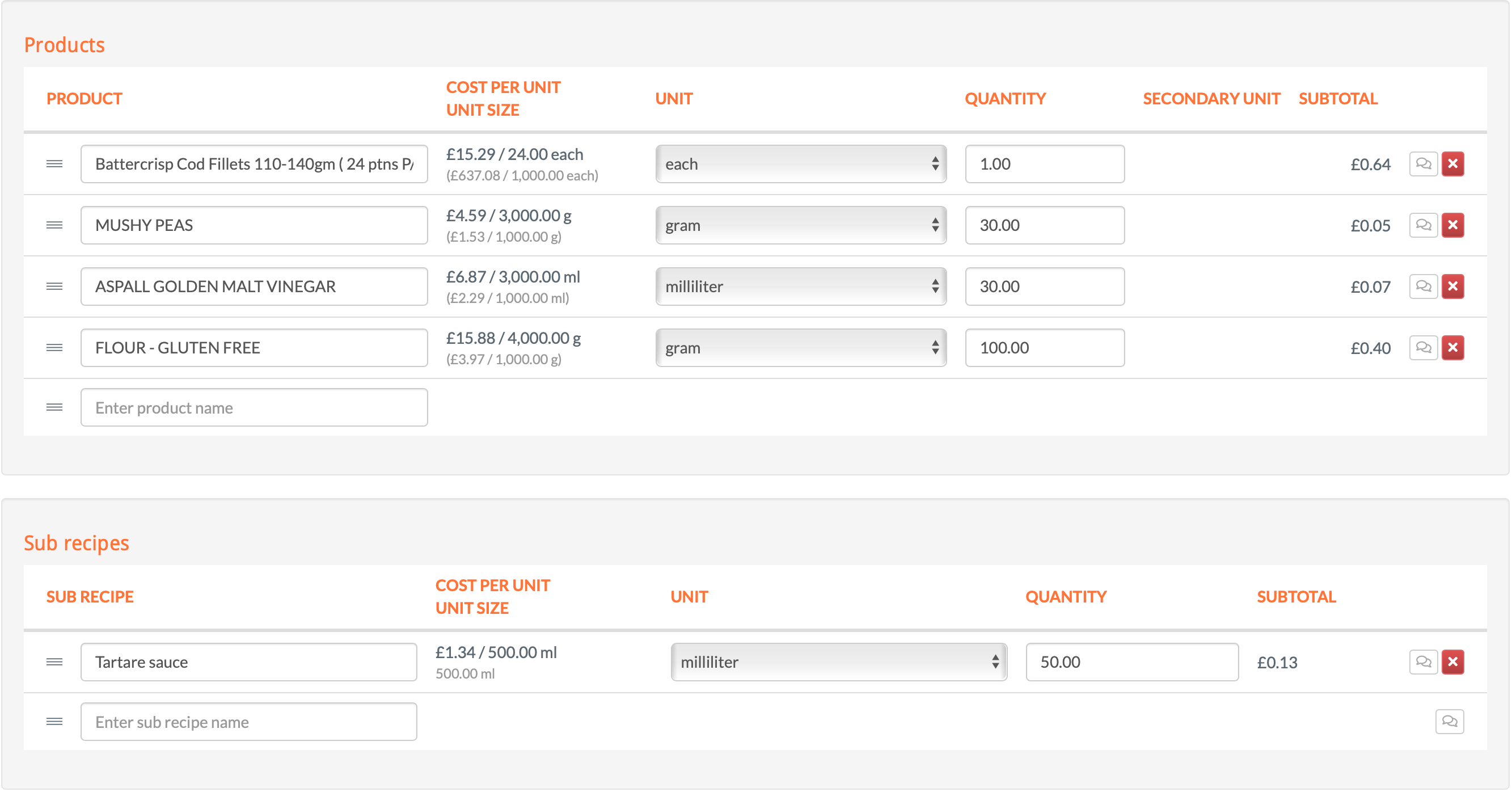 Now you can see the financials outputs:



-Cost price including wastage > this adds your wastage allowance to your base cost price
-Suggested selling price (SSP) > based on your financial settings this is the recommended GROSS selling price
-Actual selling price (ASP) - here you can specify your preferred GROSS selling price - Profit and CoS indicators adjust accordingly to the 'ASP'.
---
The rest of the form is all about added value and knowledge sharing:
Method is important for consistency and training - detail the recipe preparation instructions here.
Critical Control is your CCP - this will contain a default text set in your Settings > Business > Preferences. You can amend with recipe-specific measures or go to Settings to change the default.
Service notes is for front of house staff so you can specify any pairings up-sells or cross sells - in many cases not relevant for sub-recipes.

Nutritional Information: please see specific guide to adding nutritional info here.



Allergens: if any products contain allergens they will automatically list accordingly.

Suitable for: here you can manually apply 'suitable for' labels to final recipes. You can customise the options for these labels in Settings > Menu Costing > Suitable For.


Add multiple photos of your dishes and annotate then, add video even! Stream from Vimeo or YouTube . . .
Now 'Create' your sub recipe or 'Save + Create a Menu Item'.