This guide is for setting up integrations with EPOS providers, so that you can get your EPOS sales data fed directly into your Kitchen CUT system.
1. Navigate to Settings > Marketplace > EPOS.
Here you will see listed all of the EPOS providers that Kitchen CUT currently works with.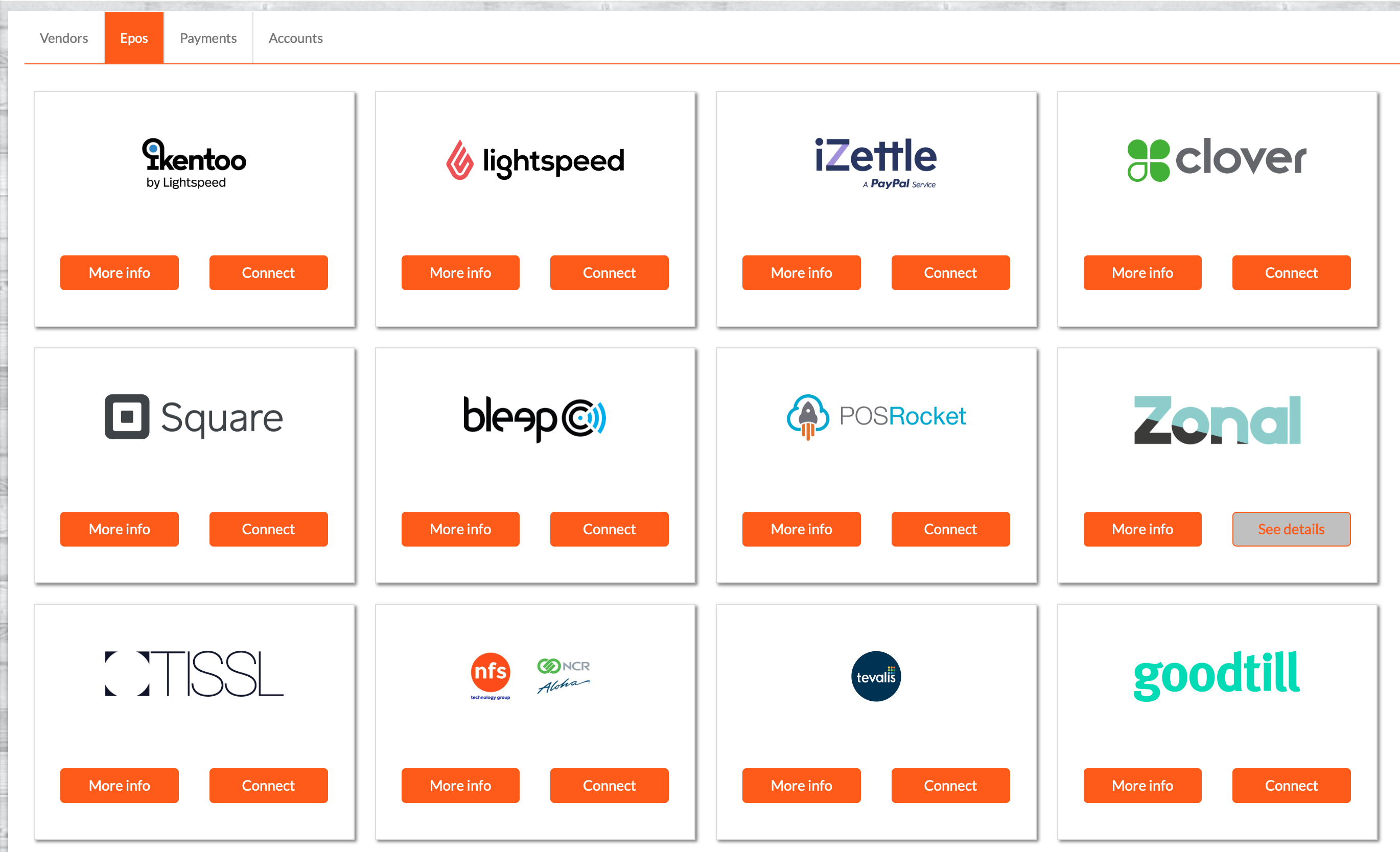 2. Select Connect on your EPOS provider. Follow the instructions to continue.
The process thereafter will be unique to the provider, depending on the infrastructure and capabilities of the EPOS company. In some cases you can simply use your EPOS login credentials to get connected. Others are more manual, and require an email to be sent to your EPOS provider to begin the connection process, at which point they will liaise with our technical support team to arrange set-up. In certain cases you may require specific credentials from either Kitchen CUT or your EPOS Provider. If you're not sure, just contact your Account Managers, or contact Kitchen CUT Support here: https://support.kitchencut.com/kb-tickets/new.

3. Once the connection has been established, you should see daily sales data polling into Kitchen CUT in Performance > Revenue > Sales Records.

In order to give meaning to this data, you will need to configure and 'pair' your menu items. This refers to the joining together of an EPOS code/PLU/SKU (the sales line identifiers from your EPOS system), and the relevant ingredients or recipes that need to deplete with each sale in Kitchen CUT. To learn how to complete this process, check out our guide to Menu Items here.

Please note, any already-polled sales lines will sit in POS > Menu Items > Unpaired, at which point you can choose Actions > Edit to 'pair' them to the relevant Source item (ingredients or recipes in Kitchen CUT), rather than creating completely from scratch.


---
If you have not yet agree an EPOS integration as part of your contract agreement please see the below:Please note, configuring a sales data integration requires agreement and confirmation from both your EPOS provider and Kitchen CUT, and in many cases will attract an additional charge on your accounts, either as a one-off fee to set up the connection and/or a maintenance fee to support the connection on a rolling basis. The viability and exact cost of an integration depends on your EPOS provider, your business configuration and other factors. Please contact your account managers at both Kitchen CUT and your EPOS provider in the first instance. If you don't have Account Management included in your package with Kitchen CUT then just contact Support here.Kitchen CUT will then enable the required permissions on your account. If you use an EPOS provider that we already work with, you can complete the above actions. If not, you will need to liaise with our team and your EPOS provider to qualify whether a sales data integration is able to be developed.