Step-by-step guide N.B - The below guide shows how to archive / un-archive a "Menu", however the process is the same for Recipes and Sub Recipes, you would just need to click on > Recipes or > Sub Recipes instead of > Menu
Archiving is used for:
Old dishes that are not on the menu currently that you might want to bring back at a later date
Festive dishes and menus e.g. Christmas, Valentines, Mother's Day that have been specially created for these events only but may want to be used at a later date
Bespoke client dishes that have been created for a one-off event
Any recipe, sub recipe or menu that you have created and you do not want to delete as you may use it again
Navigate to:
> Menu Costing > Menus > My Menus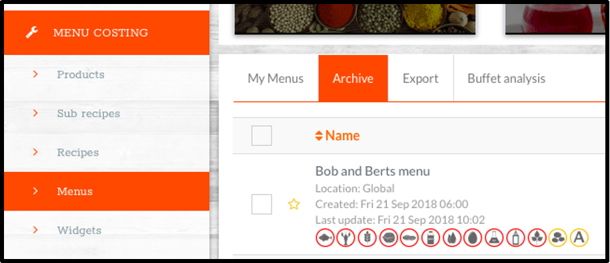 When in the > My Menus tab, locate the desired Menu you wish to archive from the list below, or use the filter/search function to find it
When you have located the menu, click "Actions" > Archive

This will then move the menu from the "active" My Menus list and into the "Archive" tab:

Now the Menu is in archive it will be removed from any live area of the system and will not be included in any reporting or system calculations. But will remain in the system ready for you to bring it back to a live state whenever you wish
Un-Archiving
Navigate to:
Menu Costing > Menus > Archive
When in the > Archive tab, locate your Menu and click > Actions then select > Unarchive

The Menu will then be moved back to the > My Menus tab and will be live and included in all searches, reports and system calculations.
If the above is unsuccessful please contact our support team at support@kitchencut.com and log a support ticket via the Kitchen CUT Customer Support Portal  (accessible through your Kitchen CUT site).