A step by step guide to assigning prices and sending price files to customers from your Gateway account
Step 1
Login to your Gateway account and select Price lists>Create new
Add the price list name and change the expiration date (this will be overridden the next time a price file is submitted so we recommend choosing a date a year away for example)
Save and Continue
Step 2
'Select Customer' and 'Assign Customer'

Step 3
Click in the box of the appropriate customer and select 'Done'

Step 4
Once the customers have been assigned, select 'Continue to product selection'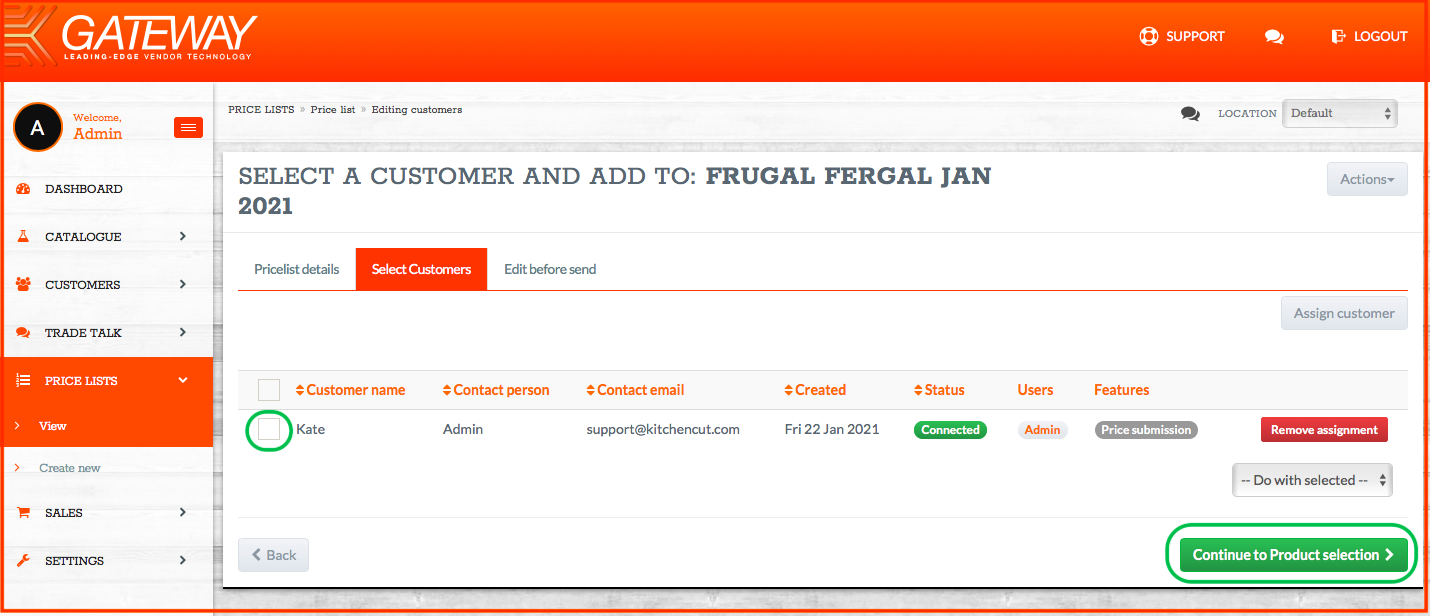 Step 5
Select 'Add products manually', and search for the items you wish to add for your chosen customers.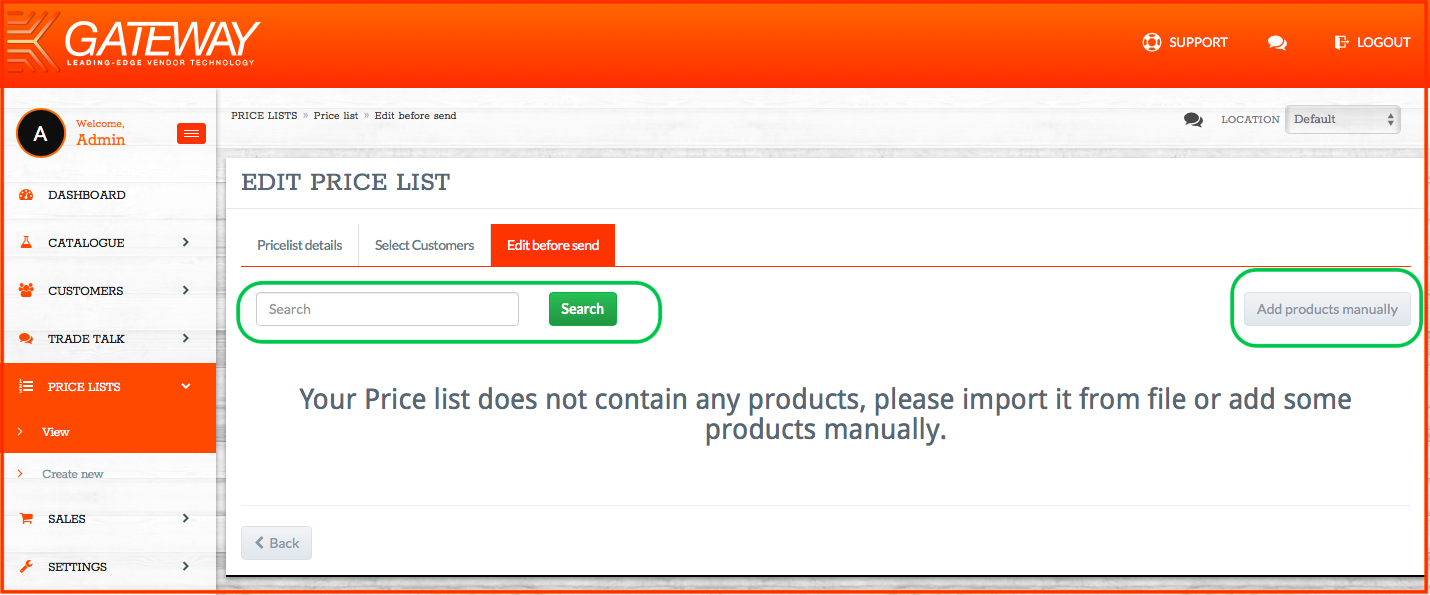 Step 6
Select the products you will be allocating for the selected customer, choose 'Add to price list' or bulk select using the tickboxes and choose 'Add selected' from the dropdown options.
Once all products have been added as required, close the pop-up window by selecting the cross in the top-right corner.

Step 7
You can now review the items on the price list you've just created. You can edit, remove, or change the price of items on the list here before sending.
Save changes to products by ticking the box (top box for all) on the left of the product and select 'Save changes' from the drop down 'Do with selected'.
Select 'Send to Customer'.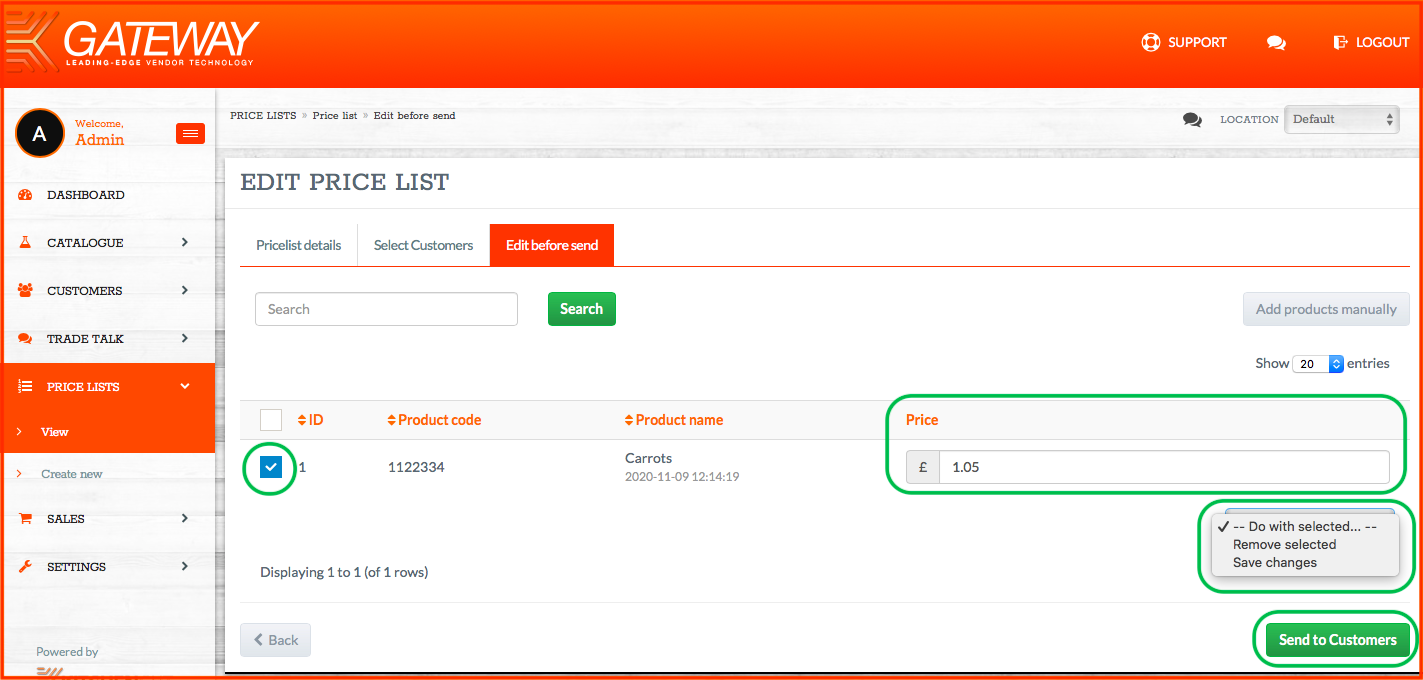 Your customer will get an email notification that a price list has been sent. Once they have accepted the price list into their system the status of the price list will change from 'Sent' to 'Closed'

If your customer wants to negotiate pricing you will see a flag against the sent price list. When you click the list it will give you the explanation of the flag. In the case below 'SOME PRODUCTS HAVE BEEN SENT FOR PRICE MODERATION'

In that case you would select the 'Actions' drop down and select 'Review/edit'

Update the price to what you are willing to compromise to and 'Save prices and submit to KitchenCut'

If your customer accepts you will see the status as 'Closed'