How to create or add a new supplier to your Kitchen CUT
Under suppliers > Connections - select 'Add New'

***In order to begin email orders, the key fields are the Supplier Name and the Order Email. We need to know what email address to send orders to. You will also need to select the 'Send email to supplier for order acceptance' checkbox. These are the minimum requirements to begin ordering on KC***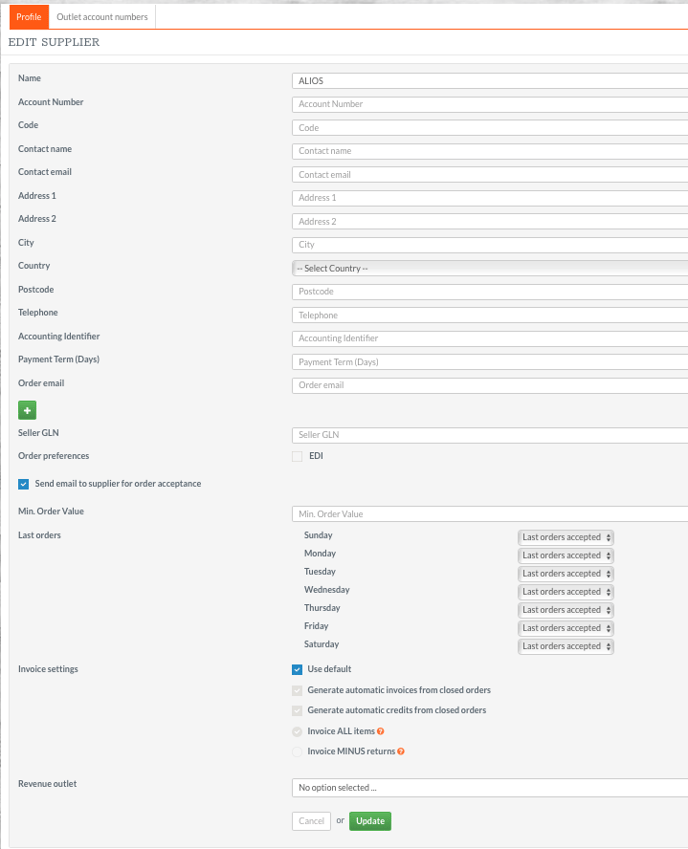 Name - This is the supplier's name as you wish to refer to them.
Account Number - This will be the account number for that supplier
Code - If the supplier has a certain code number
Contact Name – Main contact at that supplier
Address 1 & 2 - are the suppliers address
Telephone - Is the number they use
Order Email - there can be more than 1 order email address added here by clicking on + sign (this is who the orders will be sent to when ordering through the system)
Send email to supplier for order acceptance - Ensure this is on.
Min Order Value - If the supplier has a minimum order value and the person placing the order will be informed that this cannot process.
Last orders - This may vary from day to day- this also informs the person ordering that the cut off time has expired and they will not get the order on the day requested.