Use Menu Costing > Menus to create costed set menus, and generate menu-grouped spec sheets.
Please note: Creating 'Menus' in the Menu Costing module is separate to 'Digital Menus' in the E-commerce module which is used for online menu display to customers and e-commerce functionality. For more information on Digital Menus, please see F&B To Go Guides here.
On this guide, it will explain the following:
How to create a set menu from a series of recipes
How to Create a choice menu from a series of recipes
How to create a Pre-chosen menu from a series of recipes
How to grab you a la carte menus together to create service specs sheets/ allergen information and allergen tables.
Step-by-step guide
Set Menu (no choices)
Click on "Create menu" on dashboard

OR
Click on "Menu Costing"
Click on "Menus"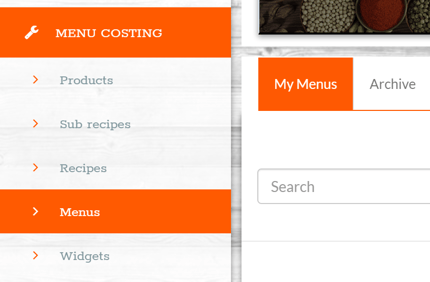 Create a name for menu
Choose a Menu season- for easy searching later
Set the VAT/TAX if this is different for your region
Leave on "Standard Choice / set menu" ( see later for other option)
Choose an Item class type - Food/ Beverage or Consumables
Choose a Revenue outlet
Leave Bulk Change Menu Recipe Yields as 1

In the Reporting Categories section, the field named 'Enter recipe name' is where you enter a recipe to add to the menu

Search for recipe, choose and leave as 1

Continue to do this for as many courses as you wish.
Extras
This can be used for bread and butter, tea and coffee (however we would always recommend creating a recipe for this for more accuracy)
Costings

The system calculates a "Suggested selling price" for you and then you can type in the "Actual Selling price"
Both prices are inclusive of TAX/VAT/TAX ( if applicable in the country you operate in)
The "Actual Selling price" calculates the Gross profit/ Cost of Sales and the Gross profit amount.
Menu Notes and Allergens
Menu notes can be added
The allergens will pull from the recipes information
NB: If allergens are tagged to products and you change a product it will change the allergen on the recipe and the menu automatically. Also all prices are linked to menus so they will always get re-costed.

Choice menu where choice is unknown
Typically this will be a Sunday Lunch menu/ Valentines menu/ Mothers Day menu where you want to calculate the average of a selection of starters, an average of a selection of main courses and an average of a selection of desserts for example.

NB the quantity is still left as 1 and a "Standard Choice/ set menu is chosen.
Pre-ordered menu where choice has already been made.
This is for parties and functions that you know what they have chosen.
You can also use this to calculate what GP and margins you made on an event after they have eaten.
When setting up menu Choose Pre-ordered menu" under "Menu Type"

Then write in the amount of covers the event was for.

Then grab the dishes you want and add the numbers for each dish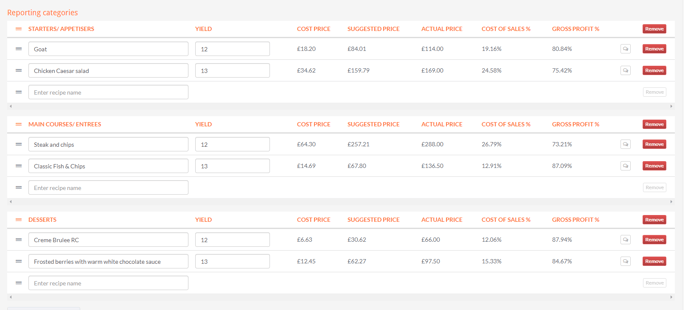 Then on costings the system calculates total menu cost/ cost per person and total suggested selling price.
You then need to add in the "Actual selling price" either by person or for the whole function.
This will calculate the margins and profit.

KC Recommends that you can also grab all you're a la carte menus as it products a series of other important view options for you.- See below
Viewing Options
When Creating a Menu it gives you 4 different viewing options
Choose menu
Click on Actions
Choose from one of the following viewing options:
Full Menu costing sheet- This gives you all of the costings and margins
Service spec sheet- Gives the service team a spec sheet with all the service notes/ allergen data and if added Nutritional and calorific data.
Customer menu- Can be used for customers to filter allergens and also view details of menu.
Allergens Table- This list out all the allergens from every dish.
NB All the information on these menus are live so if you add or change anything it will automatically flow through from the products all the way through to the menus.