In the below example I have sent an order for 7000g of FLOUR ALL PURPOSE:

The supplier receives an email detailing the order. This email includes a link to follow. When they click the link, it takes them to the following screen: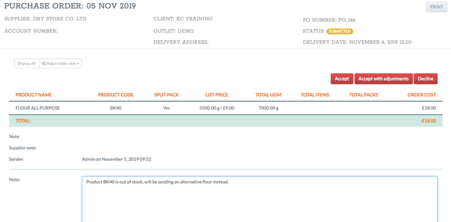 They have the options to 'Accept', 'Accept with adjustments', or 'Decline' the order. Please note, 'Accept with adjustments' will not allow the supplier to edit the order itself, but acts as a forewarning that the order will included some substitutes or other changes. These adjustments (or any other information) can be detailed in the 'Notes' section prior to clicking one of the three buttons at the top (see example above). These notes will then feed through to the Kitchen CUT user.
Here you can see, when the user goes to check in the delivery the Supplier's Note appears clearly above the Unresolved items:

The Kitchen CUT user then just needs to make the necessary adjustments when resolving items on this page.