Guide on adding nutritional information to your recipes & sub recipes.
How to add nutritional and calorific information to recipes
The system currently contains the two official databases of nutritional analysis:
1.CoFIDs - The McCance and Widdowson's 'composition of foods integrated dataset
2.The USDA National Nutrient Database
You then have the choice of European or US nutritional labelling.                                  
These are two of the most widely used databases globally and give you a nutritional analysis for raw foods, as well as for foods cooked in various formats, as well as some branded products.
Nutritional data can be added to sub recipes, when you then go to use some of that sub recipe/batch recipe within a recipe/main dish it pulls the nutritional and calorific data across for that sub recipe, so you do not have to add nutritional data twice.
Once you have added all your products for the recipe:

If you scroll down to the "Nutritional Information" section, near the bottom of the recipe:
Click on the "ADD NUTRITIONAL DATA" button

It will take you to the following view: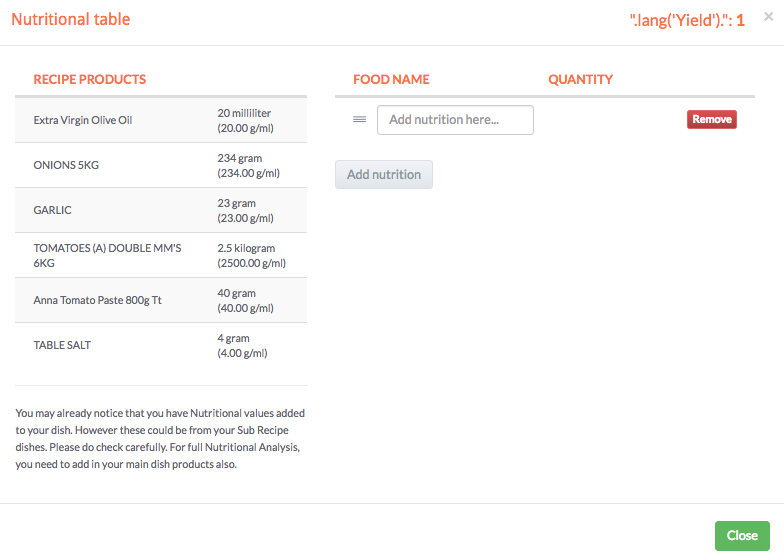 You can then search for the products which best match those you have included in your recipe (shown on the left under Recipe Products)
And then enter the weight amount for each product as it is shown in the 'Recipe Products' list (choose in either grams or ml) as shown below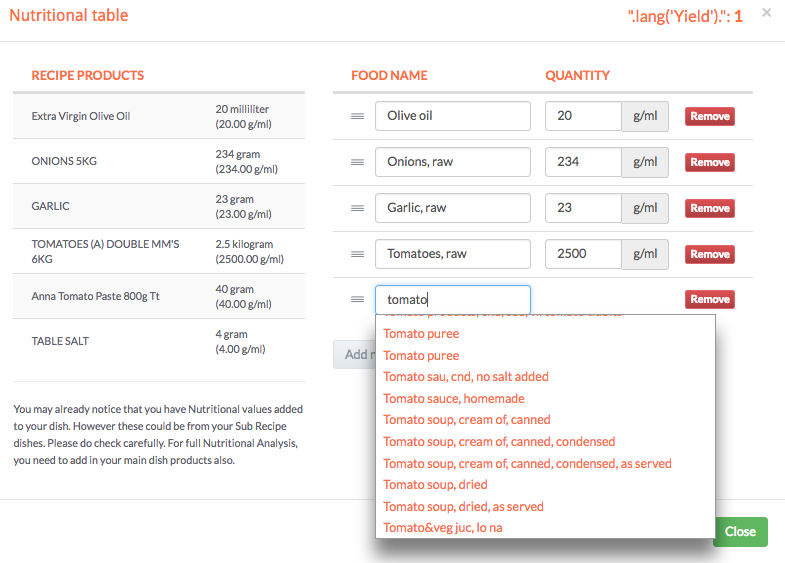 Then click "close"
You can now finish writing your recipe and then click "Create"

Once created, the recipes/menus will now appear with the nutritional and calorific values per serving size and per 100g, as well as the RDA's traffic light system (see below for examples)

This data will also be shown on "menus", "service spec sheets" and "customer spec sheets"
NB: By adding in the nutritional data on your sub recipes, this will automaticaly flow into your recipes.