This guide explains how to manage orders that have been place by customers through your Digital Menus.
Once you have created and configured your digital menu and set up online payments, you are ready to start receiving orders. Whether you are using your Digital Menu for Delivery, Click and Collect or On-site Ordering, you'll manage incoming orders in the Online Orders tab of the E-commerce module.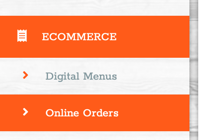 Order Control
To start with, select the Order Control tab. This is your main dashboard for processing orders. When new orders are placed they will appear in the 'New' column. You can then either Accept or Reject these orders. If Accepted the orders will progress into the middle column. From here they can then be marked as 'Ready', and will move to the right-hand column accordingly. From here orders can be marked as 'Delivered' at which point they will be cleared from the dashboard (full records of all orders will be held in the Transactions tab to refer back to).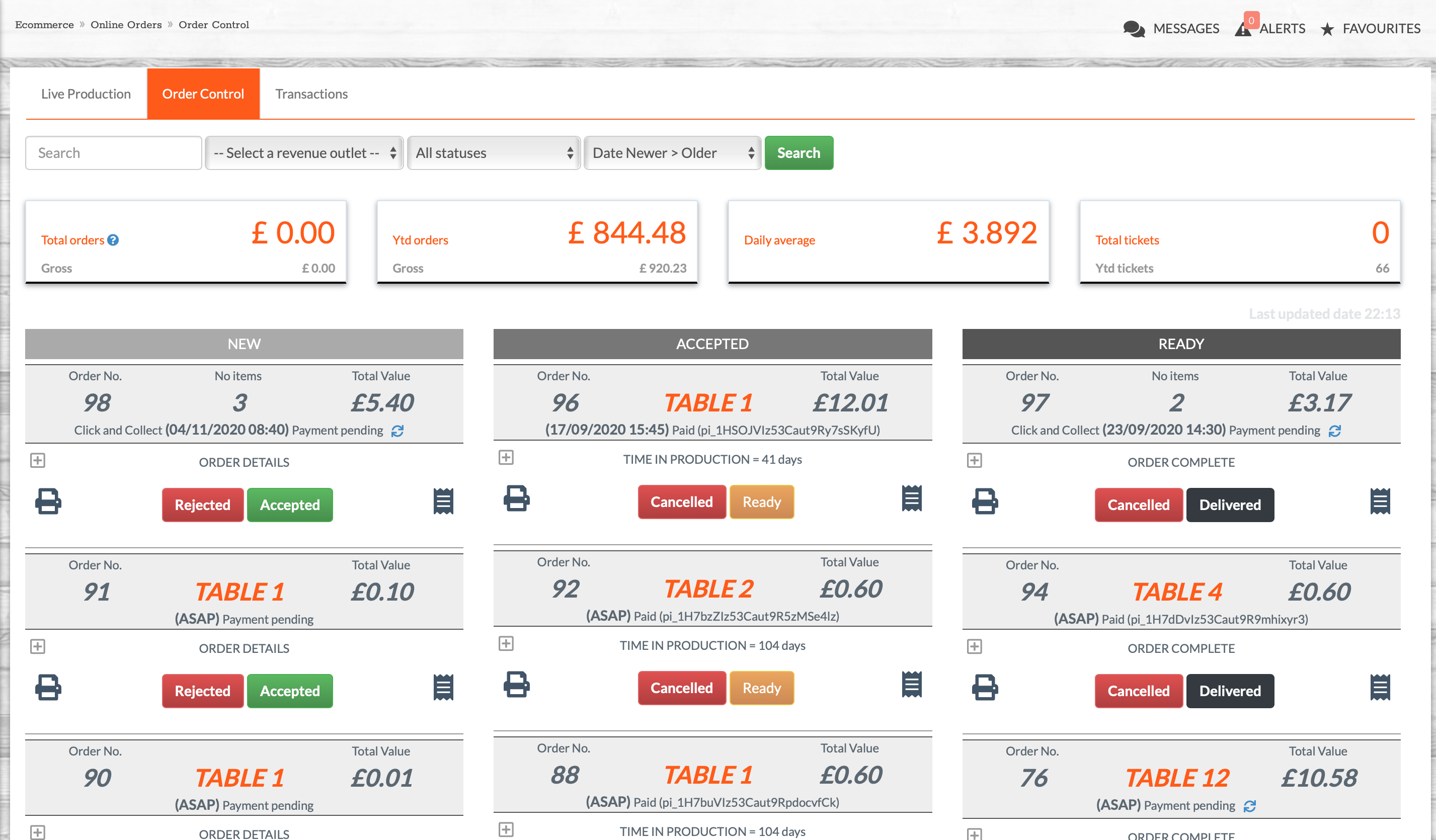 Within this screen there are various options for managing or viewing different information.

- You can filter the information shown in the dashboard using the dropdown options at the top of the page.



- You can see order details by expanding each order. Select 'See more details' for full order info including customer contact details.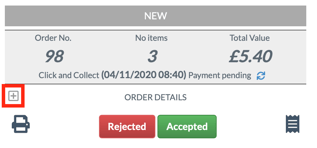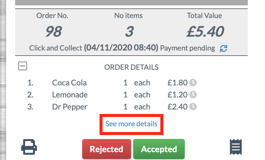 - If required you can print an order docket or customer receipt by clicking the relevant buttons. For more information on printer integrations, contact your account manager.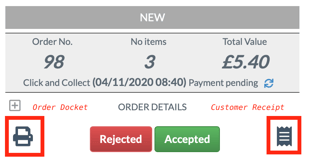 It's important to note that you will receive orders into the dashboard before the customer has necessarily completed payment. You will see the 'payment status' of orders in the order information. It's recommended that you ensure orders are marked as 'Paid' before fulfilling the request. If the order shows with 'Payment pending' this means that the customer has not completed payment. In this case, you can wait for them to complete the card payment through the payment gateway, or reject if you understand payment will not be redeemed.




Live Production
The Live Production tab can be used to filter, manage and separate operator views of Accepted orders. You can also use this to view consolidated order summaries for pre-orders. Depending on how to choose to apply filters here, there are various different views you can get, but only Accepted orders will appear here. New orders must first be accepted in the Online Orders page, or you can set up auto-acceptance in Settings > E-commerce.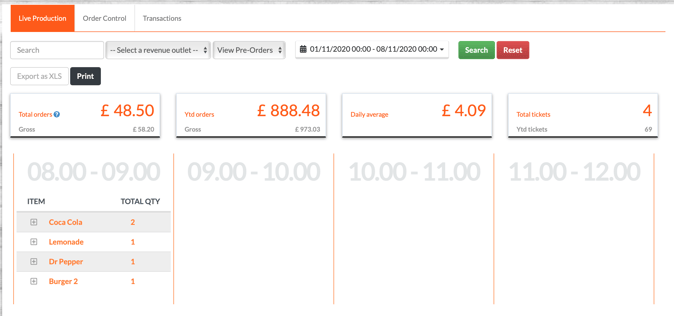 Transactions
The Transactions tab holds records of all orders of all statuses. Where the Order Control and Live Production tabs are dashboards that hold order information on a temporary basis (ie. until the order is fulfilled), the Transactions tab can be used to access records of orders indefinitely. It can be used to find information on historic or live orders.



You can choose to View a specific order, this will show you all the information the system has retained about the order, as below. Depending on the payment provider you are using, you may also be able to use this page to issue refunds.