Student Login Guide for Education Users
Go to https://kitchencut.com and click Try Now in the top-right of the webpage.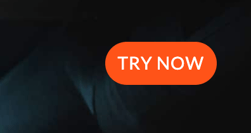 Select the F+B Essentials option. Click on 'MANAGE YOUR BUSINESS'.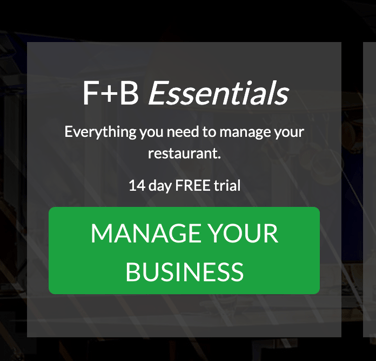 Next, fill in the form with your details to create your account.
- Enter your name
- Enter your College as Company Name (this is mandatory)
- Enter your email address (this is mandatory)
- Choose a password (this needs to be at least 8 characters, include a mix of upper and lower case letter, at least one number and at any special characters).
- Set your KC URL - this should be your first and last name all in lower-case with no spaces.
- Click 'Sign Up'.

NEXT:
- A welcome email will then be issued to the email address provided with login link and credentials. Please note, this is an automated email so may need to check junk/spam folders.
- Follow the emailed link and log into your Kitchen CUT account using the details sent to you in the welcome/registration email.
Congratulations, you have successfully registered your Kitchen CUT account. You're nearly ready to access your account - just one more step.
- Complete the requested site settings when you first enter the site, as below.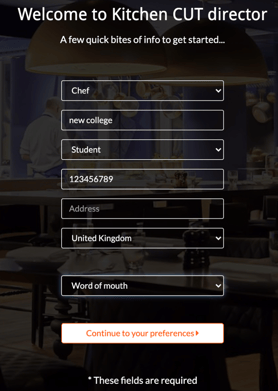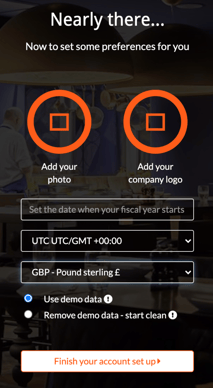 Once in your Kitchen CUT account, navigate using the panel on the left-hand side to Settings > Plans.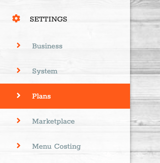 Select 'Upgrade Account'

In the right-and corner of the webpage, select 'upgrade account using promo code', enter the code provided by your lecturer and click 'validate.


Selection 'upgrade using promo code'.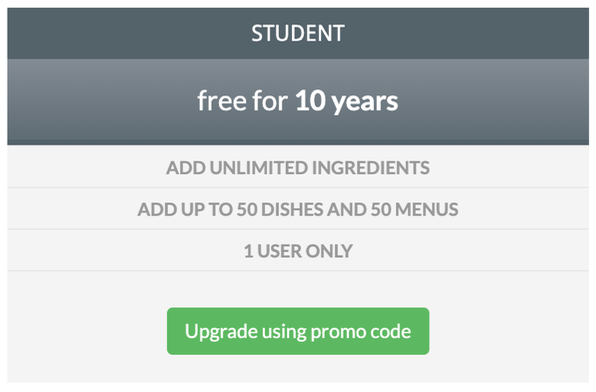 Click on 'ok' in the pop-up window
Your account has now been updated to a student package.

Thank you very much for upgrading your account- it is now ready for you to use on any device/ anywhere / anytime.
Just use your unique Kitchen CUT URL and log in using your username and password.
If you have any questions, please do contact your lecturers/ teacher/ college. For further support guides please go to https://support.kitchencut.com/education-users.