If you start to order through Kitchen CUT you will need to ensure all the supplier data is up to date.
Click on "Ordering"/ "Suppliers"

Choose the supplier you want to edit
Click on "Actions"
Click on "Edit"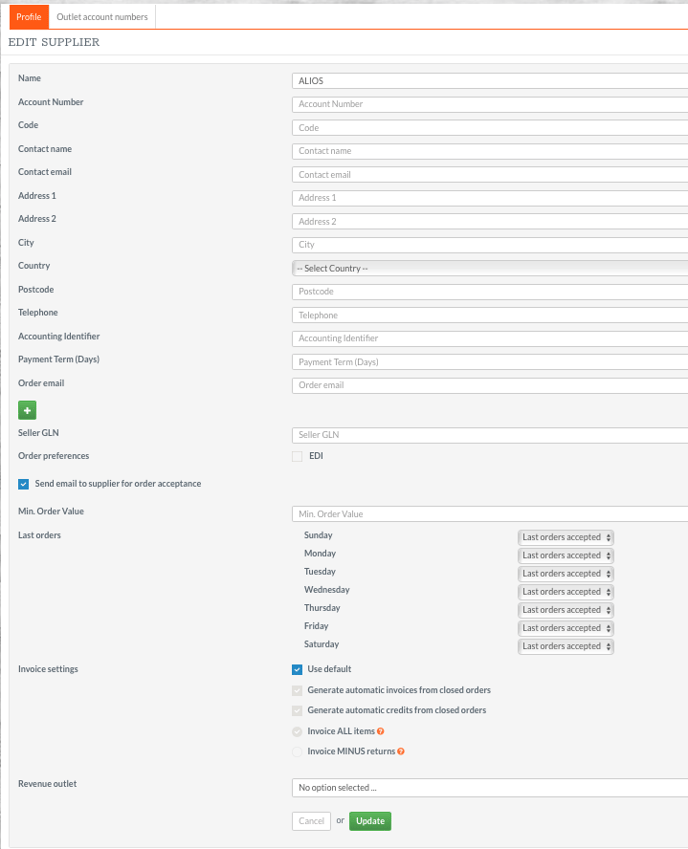 Name - Do not change the name of the supplier as this will create a duplicate supplier- please contact support for help with this.
Account Number - This will be the account number for that supplier
Code - If the supplier has a certain code number
Contact Name – At that supplier
Address 1 & 2 - are the suppliers address
Telephone - Is the number they use
Email - there can be more than 1 email address added here by clicking on + sign (this is who the orders will be sent to when ordering through the system)
Send email to supplier for order acceptance - Click for yes or untick for no
Min Order Value - If the supplier has a minimum order value and the person placing the order will be informed that this cannot process.
Last orders - This may vary from day to day- this also informs the person ordering that the cut off time has expired and they will not get the order on the day requested.
Then click "Update".